F1 Group in Association with Nepalese Society of Texas (NST) is ready for Second Nepalese American Convention in Dallas Texas from June 30 to July 2 at Four Points by Sheraton Hotel in the city of Coppell.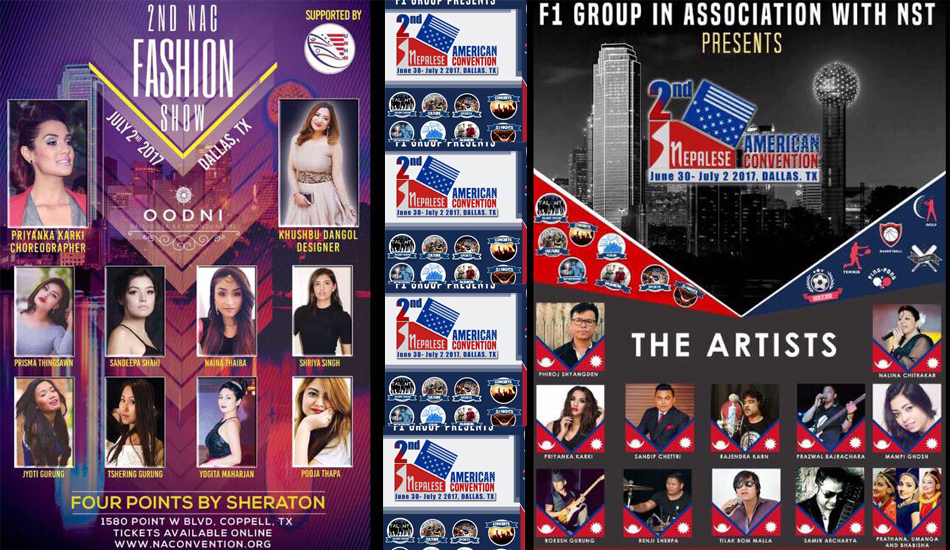 The three days convention will start at 3 PM with Opening ceremony with an expected audience of 750 people from all over USA followed by Forums/debates/kids contests at the hotel and Soccer, basketball, Cricket, Volleyball at the field. This year Women's Basketball and Volleyball teams are playing exclusive match, where as kids will be playing Kids Basketball and Soccer.
Cultural Show is scheduled for June 3o Friday at 7:15 PM at the main Ballroom. Various local Talents and Kids will be performing during the beginning of the show followed by your favorite and hit artists like Nalina Chitrakar, Sandip Chettri, Priyanka karky, Tilak Bom Malla, Mamphi Ghosh (Pawankali), Youtube Star Samir Acharya from Australia, beautiful Dancers from San Francisco Prathana and Bhabisha, Comedian Narayan Tripathi, along with Folk singers from Nepal Dinesh Thapa, Santi Sunar, Nabin Paudel. This show will be hosted by Sharaddha Shrestha, Mampi Ghosh and famous comedian Sandip Chhetri. Kids under 10 are free to enter for this show and Students and Sports Players get 50% off on all events at Nepalese American Convention.
Every night there will be Dj Night with 8 Top Nepali DJs in USA. The DJ Night Starts at 11 PM and ends at 2 AM. This will be one of the biggest Nepali DJ Event in USA. Students and Sports Players enter for $5 only per night.
Second day July 1st Mega Concert will start at 7:15 PM featuring youtube sensation Swami D, Singer Bartika Rai, followed by one hour and 30 minutes non stop live performance by Phiroz Shangden and his 4 band members from new York.
At 6:15 PM on July 2nd there will be a fashion show by 8 recently selected models from all over USA. The fashion show w2ill be choreographed by Actress / Model Priyanka Karky. Famous Nepali Boutique Oodni Boutique will feature its designs and designer Khusboo Dangol is coming from nepal for this fashion show.
After the fashion show there will be award distribution program followed by Closing Ceremony but after the closing ceremony our talented DJs will make you dance in the floor till 2 am in the morning. Beside that every day there will be informational seminars and forums in the field of Immigration, Insurance , Banking, Entrepreneurship. This program's motto is "by the youth, for the youth"
Over 500 sports person are coming to Dallas to compete with other teams in Dallas for this convention. The convention Happened in LOs Angeles last year for the first time and huge turnout of youth. Nepalese American Convention is an annual event by F1 Group , a non profit organization 501(C) of F1 students from Nepal to USA .
please visit naconvention.org for more details. Tickets are available online . For inquiry please email [email protected]
Published on June 23, 2017 at 1:56 pm